It's finally time for Tony Clifton, folks, and we really could not be more excited about it! As if this place isn't crazy enough on a daily basis, the Clifton shows are causing all kinds of mischief and rumors that may or may not fill our wildest dreams here at The Comedy Store.  
Here are the "rumors":
First, word on the street is that JIM CARREY is making his return to The Comedy Store for one of the shows.  The rumor was started on Twitter via @TheAndyKaufman that Jim Carrey will be Tony Clifton 1 of the 4 nights! How cool is that! We can't confirm nor deny that this is going to happen but the anticipation is killing us.  
Secondly, have you heard about this Yo-Yo guy? We aren't really sure where he came from or what exactly he's doing, but we are totally into it. This guy, Kenny Strasser is going around to various TV stations pretending to be this yo-yo master and well, he just isn't. Anyway, he's going around telling everyone and their mom that he will be performing with Tony Clifton on our stage at one of the shows coming up next week.  Now, Kenny Strasser has been linked to the site andykaufmanlives.com and if you look at his Twitter page, he's only updating about being here at The Store.  
Some weird stuff has been surrounding this next week and we think it's going to make it all the better.  
If you aren't familiar with Tony Clifton, here's some backstory.
Tony Clifton is a character created by Andy Kaufman in the 70's.  Most of the time, Kaufman would be portraying Clifton, however, being the prankster that he was   (is?) Clifton was played by a few other people over the years.  As far as everyone knows, he has also been played by
his brother, Michael Kaufman (on the right),
Bob Zmuda,
and Jim Carrey.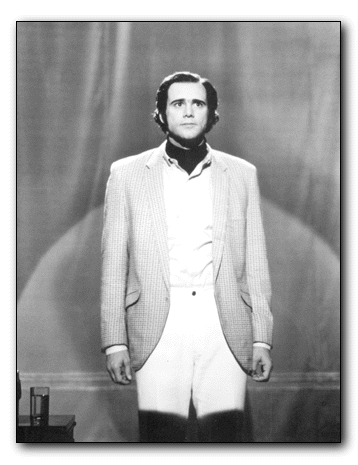 Clifton is the epitome of the washed-up lounge singer and with his crude jokes, insults, and his lack of the ability to remember any of the songs he sings, these performances are guarenteed to be oodles and oodles of fun.  Not many occasions call for "oodles" but this one most definitely does.  
If for some reason you don't have your tickets yet, get them while you can, they're selling like hotcakes! The shows start this Sunday, May 16 and continue on May 19-21.  Also, if you're still reading, the discount code for the 19th & 20th shows is ANDY.  Type that in and you'll get $5 off the ticket price!  Hope to see you all this next week!